6 Best Diwali Campaigns for 2022
Diwali is a festival that touches the hearts of people all around the world. There is peace felt in noisy crackers. Life seems to be colourful and bright with rangoli art and lights everywhere around. The festive feeling sparks joy in people to shop largely and hunt for festive offers. Even brands enjoy marketing their products digitally. The latest Diwali campaigns are gripping because they have the power to produce compassion. The brands featured this Diwali are Cadbury Celebrations, JKCement, Candere, Ferrero Rocher, Coca-Cola, and Shoppers Stop.
1. Cadbury Celebrations
Cadbury campaigns never fail to create beauty in simplicity. This Diwali too, its new campaign #ShopsForShopless emphasises the shopless hawkers who don't own their stores. This is indeed an empowering and compassionate campaign that helps the hawkers community to sell their products online, through virtual stores with a personal festive touch.
Due to the pandemic, local businesses suffered because of the consumers' habitual use of online shopping. Since then, Cadbury has been their helping hand and aims to promote these needy ones. Hawkers do not have to wander from place to place in search of one corner for their shop. They too can celebrate this Diwali happily by selling their products through online stores.
For this, Cadbury will be leveraging QR code technology and the intellectual steps taken by the brand are commendable. Through QR code technology, the buyer will scan a Cadbury Celebrations pack to locate nearby hawkers with the information of products sold by them. The chain of promotion hasn't stopped yet. Even consumers can promote and set up a virtual shop for the local hawkers. They can add details, and make the shop viral through the website. It's just a matter of registration and then, products can be sold via easy means like a phone call, SMS, or even a video call.
2. JKCement
What a film! You will surely feel it from within. Your heart will be like those millions that will be touched. The campaign film by JK Cement #AndarSeSundar brought 'Andar se Khushi with a viewership of 4 million within three days of the film launch. The human-sensitive campaign film shows how thoughtful and empathetic help can make others' festival Sundar. It portrays the mutual understanding of minds, where the painter lost hopes of going home and celebrating Diwali with his daughter. He wanted to live up to his commitment made to a young couple who are celebrating their first Diwali. The 'surprising with happy tears' moment comes when the couple gives him the flight ticket so that he reaches his village on time and celebrates this Diwali with family.
JKCement WallMaxX has opened up the new phase of its #AndarSeSundar campaign to relive the energy of the festive season. The new campaign #AndarSeSundar2.0 appreciates the contribution of the painter community who beautifies our home and festive season by killing their wishes.
3. Candere
Watch the Candere, "Khushiyon ke Gheno se, #RishtonKoSajayein" ad and you will also run to celebrate Pehle jaisi Diwali with all your family members. Candere, the omnichannel JewelTech brand's ad shows the sparkling bond between dadi and her granddaughter. The short ad brings a long smile when the granddaughter fulfils her grandmother's wishes of celebrating Diwali with all her family members and together, they gift jewellery to her grandmother. Granddaughter re-creates the bright Diwali festival of strong bonds and togetherness accompanied by Indian customs and cultures.
4. Ferrero Rocher
Will you miss watching Bollywood star Hrithik Roshan on the screen? It's difficult to ignore his charm. He shares Diwali nostalgia and how much he and his family love Ferrero Rocher.
Ferrero Rocher's video ad for the #GoldenDiwali campaign featuring Hrithik Roshan strengthens the recall value of the brand. Ferrero Rocher, the tastiest Diwali gift this Golden Diwali seeked more attention after this latest Diwali campaign.
Coca-Cola spells real magic with its campaign #MilkeHiManegiDiwali which features social connections, and the happiness of meeting friends and family this Diwali. Because of the pandemic, people couldn't enjoy togetherness for two years. Coca-cola urges people to relive the spark of meeting and celebrating Diwali in person.
The short video ad energises people in large numbers. The stylish campaign with its uniqueness and great music keeps the ad campaign gripping.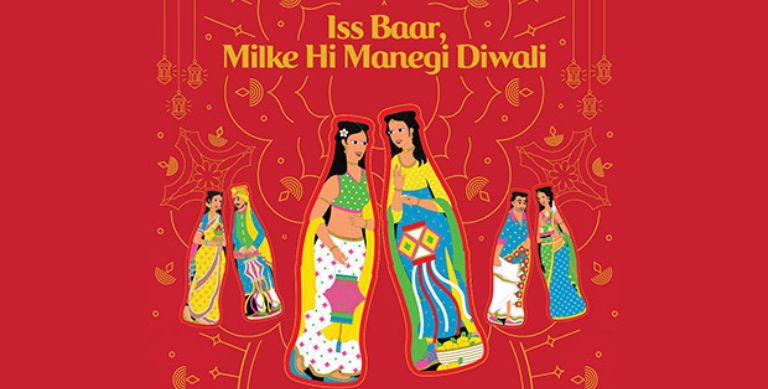 6. Shoppers Stop
The new Diwali Campaign of Shoppers Stop, "Nayi Diwali Nayi Soch " looks graceful with celebrities Yami Gautam and Dhairya Karwa. The ad gives the message that gifting loved ones is an expression of emotions.
The campaign shows that Indian families are rooted in their traditions and values. The perception of life has become modern. The blend of traditional values and practical ideas helps families get connected with a true bond.
At the end of the campaign film, Shoppers Stop says, "Pal bhar mein naye ho jaate hai tyohaar, bas ek nayi soch ek sath," showing that festivals become refreshing and beautiful, with progressive thinking.
Happy Diwali, 2022.